Low-cost spay/neuter programs!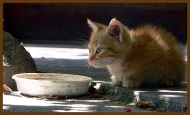 The Foundation has two low-cost spay/neuter programs for cats. In the Springfield program, we pick up cats in central locations in Peoria and Morton, transport them to the Animal Protective League, and return the following morning. In the Morton program, you bring your cat to a veterinary clinic in Morton in the morning and pick it up in the afternoon. Both programs have the same costs: $30 for males and $40 for females. The Springfield program also spays and neuters feral cats for $25. If your cat has not had a rabies vaccination, it will need one for $9 (already included in the feral rate).
PAWS reports that every year since the start of our programs, PAWS has had 50% fewer animals in the shelter as compared to previous steady rates. We believe that our programs played a big role in decreasing the number of cats turned into the shelter. The Foundation has spayed or neutered approximately 8000 cats and kittens so far.
The spay/neuter programs have been made possible in part by grants from the Jean M. Ligon Fund of the Community Foundation of Central Illinois, the Rex and Nelle Jackson Foundation and the Petco Foundation.
Call (309) 360-7455 or e-mail us at purrsonalities4peoria@yahoo.com for information or to schedule your cat or kitten today! Save lives by spaying and neutering your cats.
Please donate today and help fund the low-cost spay/neuter programs and the future sanctuary.
Browse through our web site to see all of the exciting opportunities to help.
Do you shop at Schnucks? Would you like to contribute to the Foundation at no cost to you? You can pick up an eScrip card at the counter in Schnucks, call the number on the card (we are The Daniel J. Elias Memorial Foundation, group no. 500024148), and start donating with every purchase. Remember to hand your card to the cashier before you pay.
Published Articles: